Sponsors

The Department of Families, Fairness and Housing (DFFH) empowers communities to build a fairer and safer Victoria. DFFH works to create a more inclusive society, one in which people feel safe and can take part equally. We do this by everyday by supporting people and communities to have equitable access to opportunities, overcome struggles and hardships, and recover from adversity.

The Department of Environment, Land, Water and Planning (DELWP) brings together Victoria's planning, local government, environment, energy, suburban development, forests, emergency management, climate change and water functions into a single department to strengthen connections between the environment, community, industry and economy.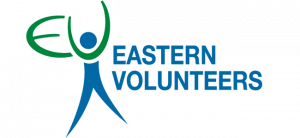 Eastern Volunteers has been serving Eastern Melbourne communities for over 40 years. They delivers services directly to the community, as well as support volunteering in a range of areas including aged care, environmental, sporting and community organisations.

Exhibitors
Aon is a leading global provider of risk management services, insurance and reinsurance brokerage, and human capital consulting.
Better Impact has been serving volunteer services and donor relations teams with program management.
Crimcheck delivers a fast, secure and affordable web-based national criminal record checking system.

Good Psychology provides training to frontline staff and managers in understanding, preventing and responding to trauma and vicarious trauma in the workplace.
Intercheck can verify, manage & store all your qualifications, police checks, licences & compliance checks all in one place.
Justice Connect helps people and community groups connect with free legal help, so everyone can have a fair chance at a better life.